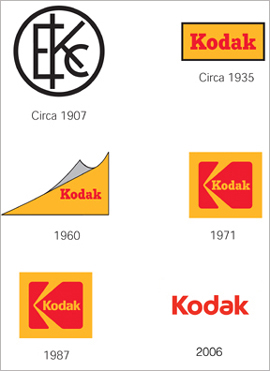 From innovator to litigator. That about sums up the last 132 years for Eastman Kodak (EK). Had it not been for Kodak, it is unlikely I would have developed (pun intended) an interest in photography, and I'm sure that's the case for millions and millions of us. Harvard case studies have been written about Kodak, and I'm sure there will be many more books detailing the rise and fall of this formally mighty company. Was it the inability to acknowledge that many of your company's own innovations might totally cannibalize your bread and butter business? Some people argue that EK simply was afraid to decimate their film business, so they never aggressively moved into, and marketed digital. Was it the inability to appreciate the incredible pace of change and how quickly consumers will accept and embrace something they didn't even know existed just a few years earlier? Or was it simply that innovators must continue to push the envelope and anticipate what the consumer will want, long before the consumer even knows that it's a possibility. Think Steve Jobs and Apple. As companies get big and bigger, it becomes increasingly difficult to accelerate the pace of innovation and creativity, especially for a 130 year old company.
In the 60's, Kodak survived and prospered in spite of Polaroid's innovations and meteoric rise. From carbon paper to word processors to fax machines to computers to the Internet to cell phone cameras to social media. The pace of change just gets faster and faster, and the price of innovative products gets cheaper with features unheard of just a few years ago. Will standalone consumer cameras disappear as cellphone cameras get better and better? Will Kodak be able to emerge from Chapter 11 bankruptcy reorganization to become a viable company again? Only time will tell. But a former manufacturing company is in trouble – big trouble, when the major source of revenues is from suing others over their intellectual property and patents.
Eastman Kodak WAS photography for most of our lives. In the digital world they helped create, they were a victim of their own innovations. Once again, those critical inflection points are either understood, anticipated and adjusted to (think, Amazon.com, landline phones, newspaper and book publishing in today's digital world, gasoline powered cars, the buggy whip, etc.), or the world of opportunities quickly disappears. Very quickly.
If you treasure memories; if photographs help you link the past to the present; if you want to record and hold onto precious moments, then you'll enjoy this beautifully conceived and executed Kodak advertisement. It probably sums up better than anything I can think of, the ways in which Eastman Kodak has impacted each and every one of our lives, and will continue to, even with the non-Kodak digital cameras that we all use today.
Important dates in the history of Eastman Kodak (source – Wikipedia):
1880: George Eastman begins the commercial manufacture of dry plates
1881: Eastman and businessman Henry A. Strong form a partnership called the Eastman Dry Plate Company
1884: The Eastman-Strong partnership was dissolved and the Eastman Dry Plate and Film Company formed with 14 shareholders
1885: George Eastman invented roll film, the basis for the invention of motion picture film, as used by early filmmakers and Thomas Edison
1888: Eastman registered the trademark Kodak
1888: The first Kodak camera appeared, taking round, 2.5″ pictures, with a fixed focus lens, and having a roll of film for 100 exposures
1889: The Eastman Company was formed
1892: Renamed the Eastman Kodak Company in 1892 with the advertising slogan, "You press the button, we do the rest."
1895: The first pocket Kodak camera, the $5 Pocket Kodak, was introduced
1897: The first folding pocket Kodak camera was introduced
1900: The Brownie camera was introduced, creating a new mass market for photography
1930: Eastman Kodak was added to the Dow Jones Industrial Average index
1935: Kodak introduced Kodachrome, the first 35mm color film
1975: Steven Sasson, then an electrical engineer at Kodak, invented the digital camera
1976: The Bayer Pattern color filter array (CFA) was invented by Eastman Kodak researcher Bryce Bayer
1976: The company sold 90% of the photographic film in the US along with 85% of the cameras
1986: Kodak scientists create the world's first megapixel sensor, capable of recording 1.4 million pixels
1994: Eastman Chemical, a Kodak subsidiary founded in 1920 to supply Kodak's chemical needs, spun off as a separate corporation
2003: Kodak introduces the Kodak EasyShare LS633 Digital Camera, the world's first digital camera to feature a full-color, active-matrix organic light-emitting diode display, and the Kodak EasyShare Printer Dock 6000, the world's first printer-and-camera dock combination
2004: Kodak announced that it would stop selling traditional film cameras in Europe and North America, and cut up to 15,000 jobs
2004: Kodak de-listed from the Dow Jones Industrial Average index, after 74 consecutive years
2006: Kodak divests consumer digital camera manufacturing and distribution to Flextronics, who continues to use Kodak name for these products
2006: Kodak keeps high-level digital camera design in house, continuing r&d in digital still cameras, and retains all intellectual property and patents
2007: Kodak announces a 2-4x increase in light sensitivity to compared to current sensor designs
2007: Kodak announces cross-licensing agreement with Chi Mei Optoelectronics for the use of Kodak technology for active matrix OLED modules
2009: Kodak posts a $137 million fourth-quarter loss and announced plans to cut up to 4,500 jobs
2009: Kodak announces it will cease selling Kodachrome color film ending 74 years of production, after a dramatic decline in sales
2009: Kodak aggressively pursues patent litigation to generate revenues
2010: Standard & Poor's removes Kodak from its S&P 500 index
2011: Kodak hires law firm for restructuring advice and its stock dropped to an all-time low of $0.54 a share
2012: January 8, 2012, Kodak announces major restructuring into two main divisions, one focused on products and services for businesses, and the other on consumer products including digital cameras
2012: January 19, 2012: Kodak files for Chapter 11 Bankruptcy Protection (reorganization) and obtains $950 million credit facility
The Future: ?????