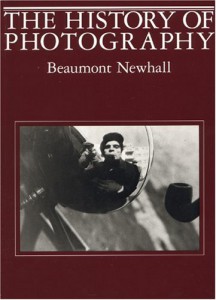 Depending on your reading of history, photography is approximately 175 years old, give or take. Daguerre, Nicephore Niepce, William Henry Fox Talbot, Antoine Claudet, George Barnard, Eadweard Muybridge, Edward Curtis, Alfred Stieglitz, Frederick Evans, Eduard Steichen, Paul Strand, Walker Evans, Edward Weston, Bill Brandt, Dorothea Lange and Ansel Adams were just a few of the dozens and dozens of individuals that are at the foundation of the rich history of photography.
The processes and materials that they used, whether it be the Daguerreotype, the calotype, salted paper prints, gelatin-silver prints, albumen prints, tintypes, carbon prints, Kodachrome, and the Polaroid each contributed to today's "state-of-the-art" photography. The more we know about the history of photography, the greater our appreciation for this ever evolving art form.
I recently re-read "The History of Photography" by Beaumont Newhall, that was first published in 1937 and is now in its fifth revised and expanded edition. For any photographers who might not have had a formal art or photography education, this is must reading.
The George Eastman House, is the world's oldest museum dedicated to photography and has produced a number of short videos that will give you an appreciation for a number of the historic processes that have greatly influenced the history of photography. Watch the photographic process videos here. I think you'll enjoy them!